What do you do when your fantasy team scores over 100 points per game but you still can't get a win?
It's a question league mate Mike Smith has been pondering, as his team has scored 96 and a whopping 138 in back to back losses to divisional opponents. Generally I would tell Mike to keep plugging away. Eventually one of his opponents will start a Blaine Gabbert-esque talent at the QB position and if you consistently score 97 you're basically guaranteed a pre-MNF victory before Week 8.
But the Cousins League is a different animal entirely. The Cousins League is a "beat your opponent" sort of league. It's not about scoring the most points every week. It's about scoring more points than whomever the schedule artificially dictates. Sometimes this fact gets lost in a "how can I maximize my point total" fantasy mindset– which is a bad habit encouraged by "experts" like Matthew Berry and your neighbor's landscaper who played in one fantasy league in 2009 (he came in fourth and won't stop talking about it).
If you're more focused on looking flashy in the "points for" column of the standings than the "win-loss" category, it may be a sign you're listening to too much Tim Hasselbeck on ESPN. Yeah, he may have been an extremely mediocre backup in the league, but did Tim ever deal with REAL adversity– like your 8th round tight end and backup-backup receiver falling to injuries before you can even whiff on a high-risk running back on the waiver wire? I don't think so. Tim lacks REAL world fantasy experience, which is why I prefer my fantasy football advice from bloggers that live in their parents basement. They don't just play fantasy for fun. They play to stay sane which is why they're a great source for low-key waiver wire pickups and how to stream whichever defense is playing the 49ers.
The point is, it doesn't matter if you started the Chiefs D and they scored 2 touchdowns and 35 fantasy points. That's all fine and dandy but what did the Chiefs do to stop Chad's offensive advantage? Because from the scoreboard it seems like Mike's fantasy front line was about as useful as South Vietnam's in January 1968.
Without further analysis, we go.
ROLL IT, TOMMY
https://www.youtube.com/watch?v=VXuXBLlfxRo/
Mike vs Chad
Chad scored the most points in a single week so far this season, putting up a grand-spanking 150 spot, even though all he needed was 139. It makes you wonder if Chad is trying to embarrass his fantasy opponent rather than just secure a victory and take a kneel down. Chad is taking a Pete Carroll-esque approach to coaching, and by that I mean he is constantly watching real-time footage from 9/11, when he incurred damage from a foreign opponent (Mars Quaid), looking for anything out of the ordinary.
http://www.cbssports.com/nfl/eye-on-football/21349095/running-up-the-score-criticism-of-pete
http://deadspin.com/is-pete-carroll-a-9-11-truther-513149713
We know Chad cares more about setting record-highs than making sure his team is ready for their byes because he was happy when Philip Rivers threw the ball at the end of the Chargers game to get an extra point, rather than knee it and avoid injury. Instead of spacing his fantasy output over a per week constraint in order to maximize total output, Snow Pea decided to mock Mike Smith by starting his best possible options at each position, sans Jameis Winston who failed multiple mid-week piss tests. All I know is that maybe if Chad thought about how he was gonna replace Jordy Nelson this week instead of thinking of new ways to beat Mike by 40 instead of 30, he wouldn't have a void and be forced to start a backup-level player like Michael Crabtree next week.
As for Mike, he's clearly in deep shit with the fantasy gods. But instead of pouting, mailing in a bad effort at work and sending three trades a day that include a package of Demaryius Thomas and new tableware (the cheap kind) to Chad for David Johnson, Mike is taking productive measures to improve his fantasy output– such as writing messages in the Cousins League facebook group.
It always sucks to lose when you score the 2nd highest point total of the season to date. But sometimes you spit fire at the bar and look really handsome in your new button down and the hot chick still goes home with the guy you WOULD have spanked in fantasy had you played him this week. So good for Mike Smith. He may be 0-3 but he scored a hefty number of digits and I'm not even talking about his Saturday night at the Atlanta clubs.
Chris vs Mars Quaid
The newbies squaring off! Two 2-0 teams come in undefeated. Only one makes it out alive. And what's the common denominator (old math term) of this matchup?
MISTAKES.
Both owners have been spectacular additions to the league thus far, but in week 3, they showed signs of regression to the mean. When Chris wasn't astutely starting Tevin Coleman and not giving up on Allen Robinson, he was benching Carlos Hyde and the FRICKEN' VIKINGS D. Now Hyde I can understand. Playing at Seattle when you have 3 receivers you need to start and 2 other competent backs. But as I told Chris in a text, Vikings D is at must start level. If you're trotting them out against Aaron Rodgers and the Pack you're damn sure starting them against Cammy boy too.
As for Doug, starting ANY defense AT New England is dumb (I often contradict myself). He also benched Gronk (either he didn't see he was a late active or he's a genius) and got lucky that Gronk barely played. And playing Big Ben or Matty Staff Infection turned out to be a not-so-smart managerial move but who could've conceived Staff would outscore Ben by 20? Oh and Darren Sproles sat on the pine with -1 yards on the ground but somehow 18 fantasy points.
The thing about the Cousins League is that it requires a "win in the playoffs" mentality. Which begs the question are these team's so focused on short term success that they're ignoring the big picture? How can you focus on your week 15 wide receiver matchups when you're so concerned with starting the best RB2 in week 3? Seems like both New Guy Chris Picher and Doug should focus more on long term sustained success than "short term fleeting love." It's the same reason hookup culture is endangering the sanctity of heterosexual marriage in our current social climate.
And how about that comeback Chris made late Monday night? Even Hillary Clinton kept looking away from the debate to check if Mark Ingram had punched one in. She was also looking to make sure Slick Willy didn't stick it in any front rowers. And Ingram (and Slick Willy) did, as did Tevin Coleman (three times), to continue an undefeated start for "The New Guy." Now the question is, can Chris continue to score points outside the confines of his own division? It's like a high-school kid pulling lots of tail under the bleachers at football games or behind the gymnasium at recess. He's in a comfortable environment. Let's see how he fares with some different competition.
P.S- Interesting move by Chris to score more points on Monday Night than on SUNDAY, when REAL men play REAL football. These Monday games are basically flag-football scrimmages compared to 1:00 gridiron football. Thinking about counting every Monday points as half a point from now on. Thanks for the heads up Chris.
P.P.S- An early congrats to Chris for basically locking up the "Safat Hannan" award so early in the season.
USandro vs Matt
DOMINATION. Pure, unadulterated domination. Uncle Sandro has taken the league by storm (get it? Cause he's the hurricanes?). I'm legally obligated to make that joke at least once a year, just like Uncle Sandro's legally obligated to start two guys on BYE before week 6.
But maybe that changes this year. Because "the people's uncle" actually has something to cheer for. And it's a god damn fantasy football team that doesn't start anyone who was let go in training camp of 2013.
First it was the team, the team, the team. The Patriots, that is, lighting up the scoreboard at Matt's home arena, the Nursery, to the tune of 49 combined points from LeGarrette Blount, Pats D and Stephen Gostkowski. And then guess what? The good times kept on rolling as Frank Gore/Charles Sims totaled a TD a piece before Dez added one on Sunday night.
And the Own Daddy? Maybe you spent TOO much time tinkering this week. I know, I know. I told you to stop having so much sex and start focusing on your flex. But an output of 67 is a bad look for your family. Even baby Grace is embarrassed and she doesn't even understand the value of a high-volume featured fantasy back.
The good news is Ezekiel Elliott is an absolute stud. The bad news? We don't allow trades for future draft picks. Not yet at least. Cause Matt could probably haul a premium for shipping Brees, Zeke, and a "get out of jail free card" that's actually just an extra monopoly card he found in Brandon Marshall's wallet.
Zach vs Phil
Anddddddddd I'M ON THE BOARD. BABY STEPS. ONE WEEK AT A TIME. WE'RE NOT DEAD YET. ARIAN FOSTER STILL SUCKS. I WONDER IF I SHOULD HAVE LOW FAT BREAD OR WHOLE WHEAT FOR BREAKFAST. THAT'S STUPID JUST EAT WHAT YOU WANT LIFE'S SHORT. WE'RE ON TO MARS QUAID.
These are the exact thoughts that entered my brain as Matt Ryan piled on the first half points and I piled on an extra 10 pounds eating wings and drinking natty light as I watched the game, the debate, and the Barstool guys watch the debate. Now I'm obviously kidding about the 10 pounds thing. I gained 11. But in all seriousness, I NEEDED that win against Phil to stay in the hunt. If I've said it once, I've said it a thousand times. The "Young & Good Looking" division is a dog-eat-dog conference. It's competitive by nature and borderline-harassment when you lose to Wayne. It's the equivalent type of harassment as when you won't let the hot girl pass by in the hallway at school. You're just trying to get your grind over while the principal's not looking. Just how Wayne threatens league mates to "fork over Kelvin Benjamin or else I'll send you 100 more deals for Kelvin Benjamin" when the commissioner's not looking.
Anyway the reason I won is because Justin Tucker and Matt Ryan balled out, but also because Ryan Mathews and DeAngelo Williams didn't ball out. If you've learned anything from today's column, which would be the first time anybody's learned anything from my column, it would be that the score you lose with one week can also be the score you win with the next week. It's a hard concept to grasp for the slower arithmetic scholars of the Cousins League, but even an Oneonta-level educated fantasy owner should understand the difference between a "bad-win" and a "good-loss"
And in this case I earned a "bad-win" which is like in Little League baseball when your team won but only because the opposing pitcher's dad got too drunk, started berating the umpire and got thrown out of the game. Some will call that a forfeit. I call it smart strategy by planting a bar in-between the diamond and instituting a no-limit Miller Lite policy for parents who still think about that foul home-run they almost hit back at state's.
In any event, this was an ugly game by both sides. But sometimes the hot girl goes home with the ugly guy and sometimes you score 71 points and win a fantasy matchup decisively. In both cases it has to do with getting too drunk except in your case the jagermeister caused you to start Jay Ajayi rather than wake up next to a co-ed at 1:00 the next day and not even care that you forgot to sit four players on bye.
UHowie vs UDrew
Howie ranks the stingiest defense in the Cousins League this year with a 71.67 per game opponent average. Is this the fantasy gods evening it out with Howie for constantly taking away points on Tuesday's over the years? I'm not saying yes, but let's just say last year's New Yorkers would've lost 6 points from Doug Martin today even though he didn't see the field.
In week 1, Howie skated by with a 2-point win thanks in large part to Antonio Brown, who literally looks like a lego.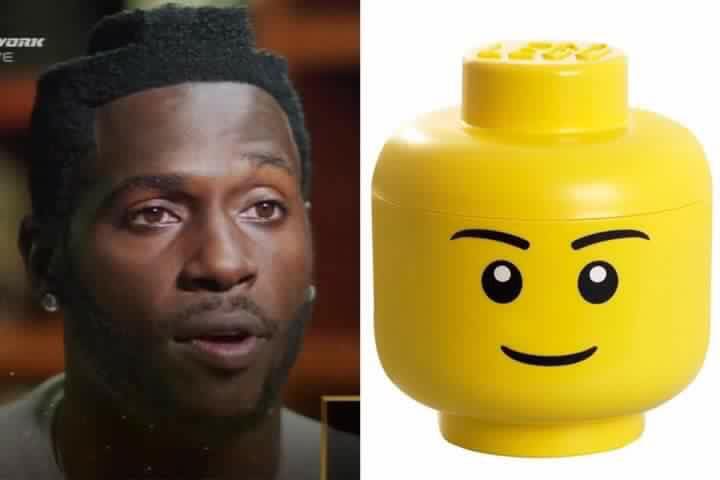 But this week, it was all about Coby Fleener who finally showed he could be a competent tight end. Unfortunately for Howie, not every player on his roster showed the same flashes tho. Marquise Goodwin stunk, Jeremy Maclin blew, and T.J. Yeldon didn't get his touches. Still, the New Yorkers somehow managed 88 cause of Fleener, Tyrod Taylor and Jeremy Hill who finally got more than 2 yards per carry for the first time since his LSU days. Now will Hill be a featured back you can count on week in and week out going forward? I actually think yes, but my first four picks in this year's draft have totaled for 19 fantasy points in three weeks. No, really. That's an actual stat.
As for Udrew, well he got his ASS KICKED. C.J. Anderson came back down to Earth and DeAndre Hopkins had no chance to succeed as Brock Osweiler targeted Malcolm Butler early and often. Going forward tho, I think UDrew has some pieces. He's got a great wide-receiver trio in Hopkins, Mike Evans (who's a bonafide fantasy #1) and rookie Sterling Shepard's Pie. Eddie Lacy also looked not extremely overweight as he stumbled to 103 yards and, according to reports, did not stuff his face with China food after the game. Instead he opted for Popeyes. *CUE THE LAUGH TRACK*
https://www.youtube.com/watch?v=iYVO5bUFww0/
But the question with this team is will Uncle Drew's blind loyalty to Eli Manning and public opinion-convicted woman beater Josh Brown be the downfall of his team? We know UD loves his NY guys but has Uncle Drew ever made a Cousins League final with a tri-state area heavy squad? The answer to this as the same answer to if I got laid in high school. No, but I wasn't even trying so it doesn't count.
Going forward, one has to wonder if THE ASS KICKERS running back depth could also come back to bite him in the rear. I mean, what the hell is Uncle Drew planning to do with Eddie Lacy on BYE? Use his number 1 waiver priority to pick up someone competent off the wire? Come on, that's too easy. The obvious move is to engage in lengthy trade talks to acquire one of the Miami Dolphin's 17 starting running backs or just plug in Bilal Powell and call it a season.
Wayne vs Anj
And now we get to our featured matchup. A HUGE battle in which the difference between Julio Jones and Brandin Cooks literally translates to Wayne either up 2 games in our division or having to share the current crown with someone who can't even drink a forty ounce, but is legally allowed to fight overseas. Listen, I'm not here to get political. I'm not a political guy. Unless of course there's a hot chick who's very political, then I lean ALLLLLLLLLLL the way right and by that I mean I'm fully erect. But in case you haven't been paying attention, Hillary Clinton wants to take ALL OUR GUNS and Donald Trump wants to NEVER let another minority in this country again.
Which are some pretty hot takes. Me? Oh, I just think Wayne should've lost since he didn't start Delanie Walker. The man who calls himself "Gary Coleman" who just dropped Corey Coleman scored a mild 80 points in his two-point victory over Anj. But had he cut Zach Ertz or Bengals D on Saturday and picked up an emergency TE to play instead of Delanie Walker? Well then he could've spent his Monday night planning potential prospects for the weekend and by that I mean scouring the waiver wire for next Sunday's game, not hitting on Oneonta Co-eds. But instead, Wayne was forced to watch MNF with a celebratory brewskie in one hand and a depression-handle of Tito's in the other.
But Jones and Cooks didn't give us fantasy nuts an action packed divisional ending. It was an exercise in futility that gave way to a Wayne victory as both players managed a measly 1 fantasy points even though the Falcons and Saints combined to score 77 total points. What set Wayne apart this week was Aaron Rodgers and Shady McCoy. Look, I wish I could do some deep dive of Wayne's week 2 pickups and how they came out of nowhere to shine. But it was just good old fashioned smart drafting that has this team at the top of what's long been rumored as the top division in the Cousins League.
So kudos to Wayne for his 3-0 start. But one has to wonder, will Latavius Murray keep putting up solid points even though he's averaged 9 carries a game the past two contests?
And also, is Wayne sending a bad message to his fantasy team on how to stay on the field? Mr. Baker was injured yet again in low-collegiate baseball this weekend after sprinting for 20 more minutes than he has the entire summer (20 minute sprint). He rolled his ankle and, as an owner, is now QUESTIONABLE to coach this weekend– meaning Liam may finally be able to leave his little "Binghamton" fantasy league and step up to where the big dogs make crucial bye-week, buy-low decisions. It just makes you wonder if a team managed by such an injury prone guy could make it all the way to the cup. If Wayne wouldn't make a good fantasy asset himself, what example is that setting for LeSean McCoy in the open field? Seems like Wayne would rather Shady go for the 1 extra yard and risk injury rather than step out of bounds and stay on his roster. Not a great look for a team trying to "get over the hump" and make his first Cousins League Championship game.
Hope ya'll had a great week 3. WE'RE ON TO WEEK 4.
-Commish
Related Posts